Escape Room Ideas During Covid-19
Escape room ideas during COVID-19
Right now, when there is no way to visit escape games, being home can quickly get boring. Even in quarantine times, however, your brain cells should be challenged!
We have 5 escape room related ideas for you that should bring you a little bit of variety in your everyday social-distancing.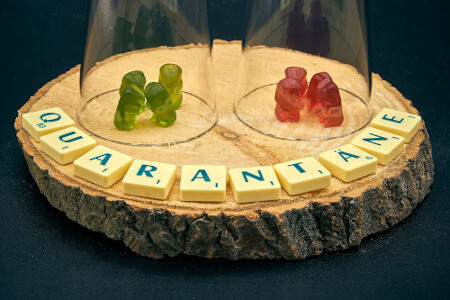 Escape Room movies and series
There are several films and series dealing with the interactive games. The most promising is the film from 2019 (Adam Robitel) "Escape Room".
Content: Six strangers receive an invitation to play an escape room and win money. Every player has a standard role, which is also popular in real (escape) life (leader, joker, the meticulous, etc.). However, the game is not an ordinary game, but harbors great dangers right from the start, which the players try to solve together, but this proves to be extremely difficult and does not always end well.
As an alternative, we can recommend the "Race to Escape" series, which you can find on Youtube and in which teams fight each other in a room prepared for them against another team in order to win money in the end.
We have written our own blog, you can find more information here: https://openthedoor.at/en/blog-race-to-escape/
There is also a relatively new Netflix-series "Key and Locke", where a family is searching in a mysterious house for different keys, which leads to a lot of adventure and danger. This series is not about Escape Games, but we loved the beautiful keys and the idea of magic. If you don't mind a little bit of fantasy- check it out!
Escape room apps
Escape Room Apps exist longer than Real Live Games and everyone with a smartphone or computer has access to them. There are hundreds of these games and it is best to simply click through them or look at various game pages.
You can find a short but very nice puzzle here.
Here you play in pairs on two devices and have to solve the puzzles through communication. But be careful: try to describe exactly what you see to your partner, so that you get on well and into no arguments(we speak from experience).
Our new game Mummified (available from mid-May 2020) is based on similar communication approaches and would be a perfect continuation game, if you liked the virtual fun.
Escape room board games
You have probably heard of these kind of games. The board game equivalent to an real life game also last an hour and are played at home. 2-6 players can play at the same time. The games are also suitable for young people and are recommended for ages 12 and up. There are puzzles to be solved, codes to be deciphered and clues to be put together. Some games are pretty difficult.
One disadvantage is that a game can only be played once. But there are groups and platforms where games can be exchanged. A game costs around € 15.
Design an interactive game night
Maybe you miss your team players and playmates too. We can understand that. If not together in the escape room, then maybe online together? Just plan a joint interactive game night where you can meet via Zoom or Skype and spend time together. Simple games such as city, country, river can be played or various platforms can be used. You could create a quiz on Kahoot for the other team members and then answer interactively.
Build your own escape room
How about a scavenger hunt through your apartment for your partner or children? Think of a few places where you could hide things and puzzles. You could also order a UV flashlight and UV pen and use it to write secret messages. Do you have a combination lock at home? Perfect - close a box with it and keep the next clue inside it - only to be opened by a mathematical riddle? Or hide the key from your bike lock and hide it. You certainly have a lot of your own ideas - be creative!