Escape Room As A Gift - Voucher For Open The Door
Escape Room as a gift - voucher for Open The Door
You and your friends are an awesome team, nothing is impossible for you? You love to try new things and to challenge yourself? Test yourself and your team on our exciting Escape Room adventure! A voucher for our Escape Room is a gift that creates memories for everybody!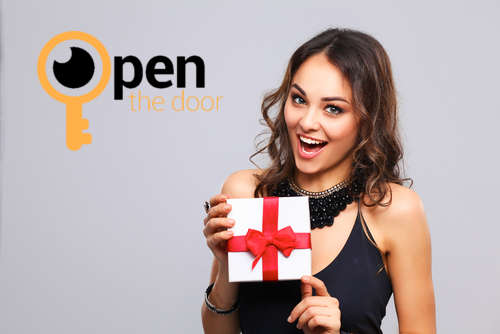 Escape Room Gift - unforgettable memories!
Are you looking for an extraordinary gift that brings joy and memories? We have the perfect gift that arouses emotions and creates unforgettable moments!
An Escape Room Gift of time with each other – that's what our vouchers are! Spend an exciting hour full of entertainment, fun and humour. Escape Room games are becoming more and more popular. Only together, as a team, through joint effort and collaboration, you can solve the puzzles and solve the prepared tasks in time!
In teams of 2-5 people, you embark on exciting adventure trips. You can prove your skills as a burglar, defeat an evil magician or fight a dragon - who has not dreamed of that before? You face a challenge that brings excitement. Are you and your team ready for it? Find out and give away an hour of fun and adventure for your family or friends!
Vouchers for our Escape Room
Making a choice is not that easy. Also, our rooms have different levels of difficulty and perhaps you are still not sure which game is best suited for the gift recipient or best fitting to your teams' experience?
No problem! With our voucher you can choose not only the time of the game, but also the topic. This allows to choose together what you like the most or to decide together which room suits your experience best.
For whom is an Escape Room voucher suitable?
Escape games are increasingly becoming a universal entertainment trend. They are an entertainment option for young and older participants, incredibly diverse in their execution and level of difficulty, allowing them to appeal to a variety of players at different levels.
Does the coupon need to be purchased for a specific team size?
At Open The Door 2-5 players can participate in a game. It therefore makes sense to buy a coupon for a certain group size, if you already know how many participants will take part of a game. Especially as a gift for the family or a birthday, a given group size is an advantage. Should you still be one more or less on the day of the game, that's no problem at all. The difference with more players can simply be paid on the spot.
The other option is to have a voucher issued, which covers (partially) the cost of a game depending on the amount. This option is usually chosen if you are not sure whether to play together, or if the budget is a little smaller and you just want to give a small surprise.
All vouchers can be bought directly here on the spot (Alser Straße 27/1/5, 1080 Vienna). It is also possible to order a voucher via email and pay by bank transfer or Paypal. The vouchers can be sent as a PDF or by post.
You can find all information about buying our vouchers here on this page:
https://www.openthedoor.at/en/gift-card/
If you still have questions about buying a voucher, feel free to contact our team. You can reach us via the contact field on our homepage!