Escape Room Vouchers In Vienna For Christmas - Openthedoor.at
Escape room Vouchers in Vienna for Christmas - openthedoor.at
Christmas is approaching and with it the well-known and sometimes annoying question: what gifts I should purchase? Giving is actually something nice that should be connected with joy. So this blog is a plea for meaningful gifts!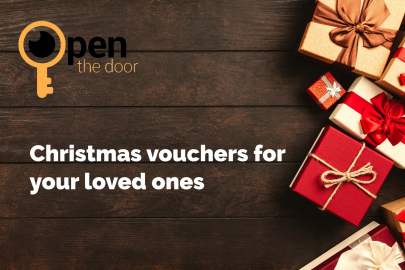 The question about the Christmas present
For many of us Christmas presents are a big deal, after all, you do not want to give just "something" but a gift that suits and delights the recipient. So many use vouchers - but is this not impersonal?
Vouchers as a Christmas present
To answer the question: yes and no. You can get vouchers for everything and in every shop on every subject. What I appreciate about coupons is the fact that there is some freedom to redeem the coupon. Impersonal are such gifts, in my opinion only, if they are just "gap filling" presents which do not fit to the person you want to present.
Is a coupon a good gift idea?
Giving money as a gift can be fine, but not everybody wants to do that. Buying a specific present and fail is not so great either. I'm a big fan of personal gifts, but only if I'm sure it's really a gift that is also accepted with joy. Vouchers therefore have some advantages:
- (mostly) not time bound (you can redeem them whenever you like)
- Unbound timewise (usually you can choose products), for example: with a restaurant voucher or cinema voucher, the place or activity is set, but there are still options to choose from
- Wide range of variations: even as a small attention possible or as a more expensive gift
- The certainty that it will not be given twice (if you still have choices)
Voucher for Christmas - what to choose?
As I said at the beginning, I love gifts that are meaningful. I therefore think it advisable to choose a voucher for activities or events, which may also include a social component, meaning time together. Thus, in addition to the material value, the coupon also has a social or symbolic value at the same time and expresses appreciation in more ways.
ESCAPE ROOM COUPON - A unique gift
We have been promoting our Christmas vouchers for the Escape Room for 2 years with the slogan "give away time"! I think the idea of ​​giving a gift that really creates shared moments and is about spending time with each other is a really good one.
Why time? You do not make an escape game every day. It is really a special experience and still exciting after playing it often. Escape games bring teams, families, friends or partners closer together. They promote communication, shared success and lots of fun together. Escape Rooms create shared memories that will not be forgotten soon!
In addition, I always find a coupon for more persons very convenient. Instead of many gifts, a voucher for a team of 4 or 5 can be purchased and the whole family is happy and can spend a wonderful day - maybe combined with a good meal or other activities in Vienna.
Vouchers for Christmas at Open The Door Escape Room in Vienna
The vouchers that you receive can be redeemed at any free time slot according to our calendar. You can also choose which game you wanna play and use the voucher as a payment method. The only thing that has to be considered beforehand is with how many people you would like to come. Here you can find all important information about the purchase of coupons:
https://www.openthedoor.at/en/gift-card/
If you really want to change the number of players after all and come f.e. with more players then your voucher is valid for, it is also no problem. You can just pay the difference on the spot.
How do I redeem the voucher?
Thats is quite easy. Get your team together, book a game through our homepage and take the voucher with you to your appointment- that's all! Here is the link to our calendar, where you can see all available time slots.
https://www.openthedoor.at/en/reservation/
So we wish you a Merry Christmas and that you can spend a lot of time with your loved ones. That's exactly what happens within an Escape Room game - you get closer together and that's also a central message of Christmas!