Company Christmas Party In Vienna - Escape Room
Company Christmas Party in Vienna - Escape Room
Organizing a Christmas party is not an easy thing, especially if you are doing it for a company... Every year it should be something new and special, which integrates everyone into the group and gives fun and enjoyment. In addition, such evenings aim to have an outcome for the team, it should bring people closer together. Our Escape Room in Vienna combines exactly these two elements - team building and fun with each other.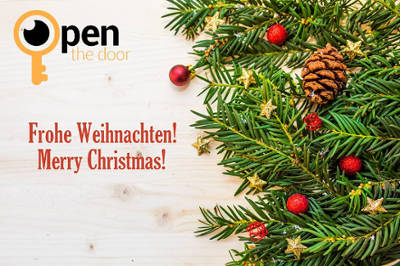 Christmas party in Vienna with your team.
A common meal at a company Christmas party is and a cozy get-together is something which can not be amiss on this kind of occasions. Also the chance to be together in a more casual atmosphere does not happen so often during the year. At the same time, Christmas time is often one of the most stressful times of the year, and many colleagues are reluctant to spend an evening in the run up to Christmas with eating and drinking. It is therefore becoming more and more popular to look for a program before dinner, in order to spend some time together as a team. Team activities such as bowling, billiard or an escape game are ideal.
Escape room - your idea for the perfect Christmas team event.
An Escape Room is not only an original, but also an exciting idea of ​​entertainment. 60 minutes are faster over than you would like! In addition, such an adventure differs significantly from the daily work-rhythm. An escape room game in Vienna at Open The Door also offers a great start to the Christmas celebration with the company. The team shares a common goal and spends time together to do something fun and the start into the evening will be completely changed. In addition, such a common success can also be a great basis for further team activities.
At Open the Door we offer 3 games in which 5-6 people build a team per room. Depending on the size of the team, 2 or 3 rooms will be reserved. Playing in small groups makes the escape game exciting. Information must be shared between team members, making communication the key element of the activity.
If the team contains more than 18 people, it can also be played in two groups in a row. Open The Door Team can arrange a table in the nearby Coffee House Lounge for the group that is waiting. Small teams or departments find a place with us as well. We are taking s great effort to find an optimal solution for every occasion.
THE CHRISTMAS PROGRAM FOR THE COMPANY
A team building during the Christmas season creates a change and time out from pre-Christmas stress and opens up new possibilities of coming together. In summary, you cannot do anything wrong with a team building in our Escape Room. In the Escape Room, the common goal of creating a task is the most important and barriers that might be present, will be put in the background. Colleagues of every rank work together with the boss, different departments get to know each other better and act together. Here are a few benefits that our game offers:
- It is a joint team action
- A common goal promotes individual and collective motivation
- Each participant can contribute something to the success (that is a general realization after our games)
- The game serves as an "icebreaker", it can be seen as an "entry point" for further activities and as a basis for further discussions
- Solving puzzles and obstacles and accomplishing common tasks creates positive emotions, as well as a positive mood and can be the starting point for further cooperation.
In our Escape Room in Vienna, a space is created where business and fun can be combined. A casual, friendly atmosphere opens up new possibilities for the team. Starting the Christmas party in an Escape Room offers many advantages and certainly variety and excitement. It will be remembered as a shared experience for a long time!
Feel free to contact us for more details!