Holiday In The City - Vienna Escape Rooms
Holiday in the city - Vienna Escape Rooms
Vienna was once again voted as city with the highest life quality. The city is therefor also a highlight for tourists, regardless of whether you are visting for a few days or a longer time.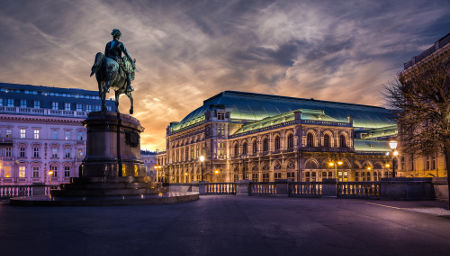 Holidays in the city - how to spend time?
Vienna is a very romantic city - that's for sure! The streets are lined with old buildings, memories of the imperial era and many green areas invite you to enjoy and stroll. The offer for a holiday in the city of Vienna is so varied that you should plan your stay well. In addition to its inviting and beautiful architecture, Vienna also enchants with many other sights and activities. A visit to the capital of Austria offers something for the mind and the eyes. A holiday in Vienna therefore gives you the chance to see one of the most beautiful places in Europe. In addition to the historic places, you wil find a broad entertainment program. But first this are one of Viennas main attractions:
- Schönbrunn Castle
- St. Stephen's Cathedral
- Hofburg
- Opera
Holiday in green Vienna
In Vienna there are many green areas. At almost every corner you will find a park. In addition, the beautiful blue Danube flows through Vienna and gives the city a very special flair. Borrow a bike, or take a leisurely stroll through the city, then your holiday in Vienna will be special. You should not miss the following places:
- City Park, with the Johann Strauss monument
- Prater
- Volksgarten near the Hofburg and the well-known museums
Holiday in Vienna with children
Traveling with children is a challenge itself. Because kids want to have fun and be active. Traditional destinations can be boring. To make all generations happy, a varied daily program is really important. Vienna is the right city for this. There is no lack of entertainment. Best known and most interesting for children are:
- the Viennese Prater. An adventure park with more than 250 attractions for all ages. The "Riesenrad" (similar to the London Eye, but much earlier built) in the Prater is one of the biggest attractions of the city and also gives you the chance to see Vienna from above.
- Schönbrunn Maize: During the spring and summer months, Schöbrunn Castle offers a garden labyrinth where you can walk undisturbed. There are small stops with riddles and tasks inside the labyrinth and so the trip becomes an interactive adventure and is worth experiancing for young and old visitors
- Of course our articles must also reference to an escape game - so that the holiday in Vienna with children will be unforgettable. This activity is also suitable for the whole family and is not only as bad weather or evening program. Experiencing adventure together, preferably at Open The Door - and in Austria's beautiful capital Vienna - who does not want that?